SPEARGUNS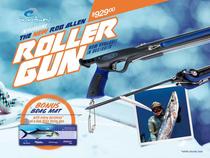 We are Illawarra's Premium Rob Allen Dealer, we have all guns in stock Roller Gun, Samburu, Tuna, Sparid, Inferno and Scorpia.
We are also stockest of Omer, Cressi, Ocean Hunter, Mares, JBL and Undersee.
A great alternative is the Hand Spear which we carry both the Aluminium and Fibre Glass.
RIFFE EURO SPEARGUNS NOW IN STOCK
RIFFE EURO SPEARGUNS

Riffe Euro Spear Guns.

Euro Series spearguns are designed for all level of divers. Featuring the Mag-Track (patent pending) which offers a faster shaft engagement and may be used for free shafting. RIFFE's new low profile designs are made with 3 vertical laminated teak strips and bolted front muzzle for added strength.

ROB ALLEN SPEARGUNS

Samburu
Individually air brushed Camo Carbon Barrel.
Low profile open muzzle
Robust Vecta pistol grip handle + loading butt
Soild anchor with swivel shark clip
1 x RA Blue Bungee
2 x RA Blue 16mm power bands
400lb Monofilament shooting line
7.5mm Hardened Spring Steel Spear

Roller Gun

Robust Vecta pistol grip handle + loading butt
Stainless steel line release.
Minimal recoil with maximum power.
Ceramic Bearings.
Large Durable Rollers.
RA Blue 16mm power band.
Load Assist.
400lb Monofilament shooting line
7.5mm Hardened Spring Steel Spea
Muzzle unique line guide system and power band ensures easy reloading.
Stainless steel anchor points and a full band extension ensure accuracy.

Tuna

Low profile open muzzle.
Robust rail barrel
Robust Vecta pistol grip handle + loading butt
Soild anchor with swivel shark clip
1 x RA Blue Bungee
2 x RA Blue 16mm power bands
400lb Monofilament shooting line
7.5mm Hardened Spring Steel Spear.
Available from 90cm to 140cm

Sparid
Robust Vecta pistol grip handle + loading butt
7mm double notch spear hardened
Double rubber muzzle
1 x RA Blue Bungee
1 x RA Blue 16mm power bands
Ultra heavy duty snap swivel gun bungee
Available from 90cm to 140cm

Inferno
Robust Vecta pistol grip handle + loading butt
7mm double notch spear hardened
Double rubber muzzle
1 x RA Orange Bungee
1 x RA Orange 16mm power bands
Ultra heavy duty snap swivel gun bungee
Available from 90cm to 140cm

Scorpia
Fully integrated rail barrel
Robust Vecta pistol grip handle
6.6mm spring steel spear
16mm single rubber with Dyneema wishbone
Available in 90cm 100cm & 110cm