SSI Professional Courses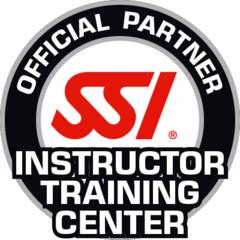 SSI Divemaster
As soon as you have completed Dive Guide, and the Science of Diving programs, you will be awarded with the SSI Divemaster rating. You are then on your way to becoming an SSI Dive Control Specialist.
The Science of Diving specialty is the next step to becoming a dive professional and upgrading to Divemaster. Science of Diving addresses all the areas of diving knowledge in a detailed and comprehensive manner:
Physics, Physiology, Decompression Theory, Aquatic Environment and Diving Equipment.
This knowledge is the basis for a successful career as an SSI Dive Professional.
SSI Divemaster N/C
SSI Assistant Instructor
As a SSI Assistant Instructor you will be able to lead and guide certified divers, assist SSI instructors teaching the academics, pool and open water contents of an Open Water course (under direct supervision, excluding emergency skills), teach Scuba Skills Updates, the SSI Snorkeling program, the SSI Try Scuba program (pool only) and are able to upgrade to the status of Training Specialist.
Essentially you are an Assistant Instructor being groomed and prepared to go to the next level.
During the course we will work on the building of your teaching and presentation skills in the classroom, pool and open water, and during the Open Water program and once the student has demonstrated competency in the required skills, you will be able to guide up to 2 of them at a time on underwater tours without the direct supervision of an instructor.
Prerequisite:-
Be 18 Years of age or older.
Own your Total Diving System of Professional Quality.
Logged 75 O/W Dives with 50 hours U/W time.
Be Certified as a SSI Dive Master
Current Dive Medical & Current CPR, First Aid & Admin Of Oxygen.
SSI Instructor Training Course ( ITC )
The goal of the Instructor Training Course is to increase your industry knowledge, expand your teaching skills and add professional presentation / sales experience through modern workshops and practical applications. It is an opportunity to learn how to deliver "The Ultimate Dive Experience."
The SSI Instructor Training Course is a unique program that has stood the test of time. In order to stay competitive in today's diving industry, the program has been updated to ensure that all Dive Professionals are equipped with the latest retail business training and industry knowledge. A newly certified SSI Open Water Instructor can be absolutely sure to have all necessary skills and knowledge to work successfully.
Prerequisite:-
Minimum age: 18 years old.
Must hold the Dive Control Specialist rating.
Must have logged no less than 75 open water dives totalling 50 hours or more.
RSTC Medical Statement signed by a physician within one year
CPR training within two years
First Aid training within two years
Oxygen First Aid training within two years
Your own Total Diving System
Total Logbook System
Duration 9 Days
Upon successful completion of the Instructor Training Course, candidates may participate in an Instructor Evaluation.
The Instructor Evaluation must be conducted within six months of the completion of the Instructor Training Course.
If it has been more than six months, an Instructor Trainer will need to conduct a re-evaluation to determine if the candidate still has proficient knowledge and skills before attending an Instructor Evaluation.
Snorkeling Instructor Course
The SSI Snorkeling Instructor program is intended to provide candidates with the knowledge and training necessary to conduct entry-level snorkeling programs in a safe and enjoyable manner.
The course $649.00
covers theory and practical all in one day tuition.
Includsions :-
Pool Fees
SSI Pro Activation & Registration
SSI Membership
· The minimum age to participate is 18 years old.
· You must be able to swim.
· All participants must complete a Medical Questionnaire.
Duration 1 Day
Must Have Or Complete the following Course Before you can Become a Snorkeling Instructor
FIRST AID, 02 PROVIDER & CPR
Windang Dive can also Provide these courses in a Bundle for a cost of $270.00
Duration 1 Day